INHALT
18 Juli 2008
Tour In June (incomplete ... to be continued)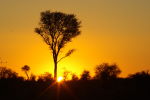 Southern Africa
Southern Africa is a place of contrasts. You will find everything from people (in undeveloped parts of the country) walking kilometers and kilometers or riding on horses (e.g. Townships, Coffee Bay and Lesotho) for water till luxury cars like AMG, Merecedes, Audi, Hummer and so on (e.g. Cape Town, Johannesburg and Pretoria). There are nice beaches, impressing gorges, large canyones and high mountains. Within less than 5 hours it is possible to get from the warm coast in Margate or Sodwana Bay (during the day in the winter about 25 degrees) to the freezing cold Drakensberge at the Border of Lesotho.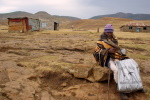 Semonkong (Fraser's Lodge 01-03.07):
In the evening of the second day I (Jan) wanted to start the fire in the fireside of our hut, but that was kind of difficult without a newspaper. But after a few minutes my struggleing with the fire was interrupted by a guy knocking at the door. He was one of the staff and he came to start the fire for us.
On the next morning we woke up, cause someone was knocking at our door again. It was a lady of the staff, that brought tea & coffee which we drank while lying in bed. We really can't complain about the service. *g*
During the day we went on a hike to the Maletsunyane waterfall. The dog of the lodge followed us all the way. Whenever we stopped to have a look on the map he rested as well.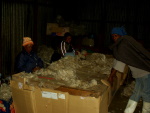 Town Tour (02.07)
Our local guide Catherina took us to sheep shering, shops, some other places and told us lots about the way of living in Lesotho.
In front of a supermarket there were 2 ladies sitting and selling fat cakes. But not to us, cause the 2 saleswomen told us that their fat cakes had too less sugar and we should buy them somewhere else, which we did. I was really surprised, that they told us that their cakes were bad.
At the end of the tour we went to a local restaurant, were we ate lamb meet with rice, vegetables and a really tasty sauce. The meel would usually cost 20 ZAR (tee and coffee was 2.5 ZAR) but was included in the tour price.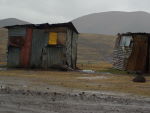 Maloti Route (03.06)
On our way back to Maseru borderpost it rained the whole time. The trip was therefore quite difficult (without 4x4). To slow around a curve we would have got stuck and too fast we would have left the road unintentional.
But we were not the only vehicle struggeling on the road over 2 passes. We saw a car of DHL that probably brought mail and parcels to the inhabitants of Semonkong. It didn't look like he had too much fun today. *g*

Drive to Sabie & flat tyre (03.06)
On our way to Sabie we made a short stop in Bloemfontein, cause Mr. Molemoholo from the departement of home affäres told me on the phone that my extended visa had just arrived. Luckily I got my visa just in time ... 3:50 PM (on Saturdays the office closes at 4 PM). Afterwards we had dinner in my favourite restaurant close to the CUT in Bloemfontein and continued our trip to Sabie at 17:30 o'clock.
In South Africa there are lots of cities with names from cities of other countries. On our way from Bloemfontein to Sabie we passed Belfast. *g*
On the road to Billy Bongo Backpackers a slow police car used the side-lane to make place for us. We thanked by using the warning flasher and they said "was a pleasure" by flashing their lights. I was used to that kind of behaviour - but not from the police...
to be done
After hours and hours of driving (03.06 17:30-00:00) on a fairly good road suddenly a big stone (respectively a small rock) was lying in a corner. Since I was already driving since 6 hours my reaction was a bit too slow. Therefore we had to fix a flat tyre in the middle of the night (at about 00:20 o'clock).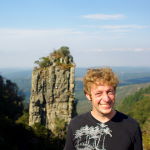 Billy Bongo Backpackers (04.06 and 05.06)
On the next morning after we arrived at Billy Bongo, there was a group of South African guys that were about to repair the engine of their car whilst having breakfast (means they were drinking Black Label beer).
With the rental car we visited (2 day tour) Gods Window, Pinnacle rock, Bourke's Luck Potholes, the MacMac falls, Lowveld view, Three rondavels and the lisbon falls. In the MacMac pools we enjoyed having a bath.
After we came back from our daytrip, the guys at Billy Bongo backpackers told us that they got a damaged engine for 100 ZAR. But the engine they bought had a cover that was perfect to replace the damaged cover of their engine. If they would have bought that cover at the shop they would have had to pay 1000 ZAR. So they saved 900 ZAR and got a whole engine (lots of spareparts) instead of just a cover.
While playing pool with Limbani (guy of Billy Bongo backpackers), having a smoke and drinking beer in the evening the Quentin Tarantino movie "Death Proof" was playing on TV. Although one can find entries like "People here need help" in the guestbook, this is still one of my favourite backpackers in South Africa!
Nevertheless we left in the evening of the 5th heading to Blyde River Canyon Backpackers.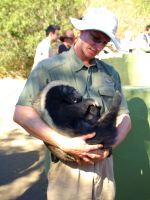 Moholoholo Rehabilitation Centre in Hoedspruit (06.06)
At the next day on our guided tour through Moholoholo Rehabilitation Centre the guide told us about a prison breaking honey batch (picture):
1) He first digged underground tunnels to escape, so the guys of the park build a stone-wall with a baseplate 1 meter below the ground.
2) Afterwards he collected everything he could find (e.g. plants, parts of trees, soil...) to build a small hill beside the wall and escaped again.
So the guys of the park used very hard soil and only small plants.
3) But the heney batch found small cracks in the wall, used them to climb the wall and escaped again.
Therefore the wall was fixed and he got a female partner.
4) The first thing he did was pushing the female honey batch close to the wall...
Then he stepped on her head and tried to escape!! *LOL*
Tyre change (06.06)
Since we had a flat tyre in the night from the 3rd to the 4th (way to Billy Bongo) - which we had to fix on the road - we swaped the car short after our visit at the rehabilitation center.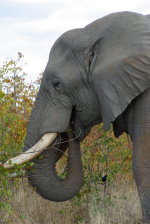 Krüger nationalpark (06.06 - 08.06)
Since Chiara already wrote about those days in her blog entry and I visited Krüger 3 weeks later with my dad I only refer to this picture gallery.
OK, one funny thing to mention. Entering the park I had to stop for some Impalas which are very graceful but common as well. The car behind us stopped and started to search for something special which they though we were looking for. I beckoned them to pass by, pointed at Chiara and said "She want's to see the Impalas, it's her first day". They obviously understood something different and answered "Happy Birthday!" ... we were rolling on the floor laughing.

Pretoria (08.06 and 09.06)
to be done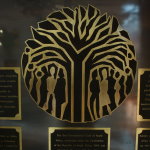 Drive to Johannesburg (10.06)
Since we had to fly to Cape Town in the evening we only made a short stop in Jo'borg to visit the Court of Constitution.
We also made a guided tour through the prison close to the Constitution Hill were Mandela and Gandhi have been imprisoned at that time.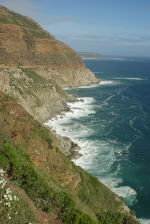 Cape Town (11.06-16.06)
In the evening we flew almost 2,5 hours from Johannesburg to Cape Town and afterwards were picked up by the "Cape Town Backpackers Bus" which takes all the tourists from the airport to the different backpackers for free. We were brought to the Longstreet Backpackers were we stayed for one night to move over to Blue Mountain Backpackers on the next day. During our stay we would go shopping at the Waterfront, join a Wineland Tour which is very recommenable, visit several very interesting sites and party a lot.
13.06: On our way to the cape point (Wild Card recommended) we passed Clifton Beach and continued on the Chapmans Drive to enjoy amazing outsights to visit Dias Momentum and enjoy the endless sea at the Cape Point and Cape of Good Hope. On our way back we watched the penguins at Boulders Beach and took some pictures of the nice beach houses in St. James. The day then ended up in Zulus-Club.
On the 15th we picked my Dad up from the airport, washed our clothes, visited the Castle of Good Hope and went to the Bo-Kap district with the nice coloured flats.
During the whole time in Cape Town the Table Mountain was covered by clouds. This reminds me of a Vodacom-commercial I saw: "The Table Mountain is covered by clouds, everything else is covered by Vodacom". Nevertheless we wanted to have a look on Cape Town from above on our last day in Cape Town. But the Table Mountain was not only covered by clouds it was very windy as well. Therefore the cable railway was not running for security reasons the told us at the Ticket-Office.
Chiaras comment on here way to the gate: "This 2 weeks were like several vacations in one!". After we brought Chiara to the airport at 3pm my dad and me started our 5 hours trip to Oudtshoorn were we saw several amazing canyons, mountains and a city called Heilbronn along the "road" R62.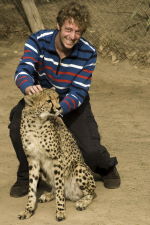 Oudtshoorn (17.06)
At the Cango Wildlife Farm we saw snakes, crocodiles and lots of different animals. Furthermore I had the ability to stroke the cheetahs which was a pretty exciting experience. My father wasn't keen in getting too close to the predators and took some pictures of that amazing event.
In the Cango Caves there were a stalagmite grown together with a stalactite which sounded like a bush drum each time one beat against it. That was an awesome sound deep down in the caves.

Bill Tong
Bill Tong is very special for South Africa. It is dried meat in stripes with spices. You can eat it while walking around or while sitting in front of the TV (like chips).
When I leave South Africa I certainly gonna be Bill Tong addicted. But probably it will be kind of hard to get this stuff in Germany.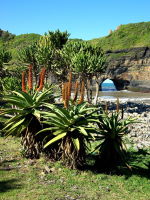 Coffee Bay (21.06-23.06)
We arrived at Hole in the wall backpackers, which is only reachable through Coffee Bay (20 min by car), long after it became dark. The backpackers is very close to the beach and of course close to the "hole in the wall" rock formation from which the backpackers got its name from.
On the second day we went to the beach and hole in the wall, were we saw some dolphins as well. In the evening we braaied (engl.: Barbecue) and cooked with Magi & Eli at the place they stayed at "Bomvu Paradise Backpackers" which was 20 min by car from our backpackers. The chicken wings, salat and lobster that I bought from a local guy at the beach (10 ZAR) were really tasty. After the meal there was drum lesson (looks much easier than it is) and party with the locals in a really cool atmosphere.
The next time I visit Coffee Bay I gonna go to "Bomvu Paradise Backpackers" instead of the one we were this time. Cause it is ways more informal and has the better leisure time activities.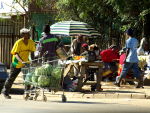 Trip 2 Uvongo Beach (23.06)
In each bigger city on the road you can get everything like living chicken, a public phone, oranges, clothes, salat ...
We saw a pickup were the loading area was full with lots of people playing cards.
Amphitheater Backpackers (25.06)
to be done

Lesotho Tour (26.06)
On the next day we went to a Lesotho (country) tour for getting to know the Basotho (people) and listen to the stories of a Sangoma (traditional healer) which tought us some Sesotho (language):
Dümela = Hello
Schabien = Pub
Rijalebuha = danke
Salahantle = good bye (says the one which is leaving)
Samahantle = good bye (says the one which is staying)
Hahunamatata = no worries
When the kids on the street saw us coming they were running towards us and shouted "sweets, sweets, sweets ...". Whenever one switched on his camera they started posing and to shout "photo, photo, photo ...".
Since the people of Lesotho are very poor and do not have money for signs the local "breweries" place flags so one can see were you get something to drink and what (white for beer and yellow for vine). The kids earn some extra money by selling mice they catch in traps on the field. With some pab, vegetables and sauce they actually taste quite good.